Last week, in the immediate aftermath of unspeakable tragedy, educators in many communities had to return to the classroom. Students had to show up for school. The daily work of teaching and learning continued, even as we were just beginning to process what had happened.  
In that moment, students and educators alike chose to show up for each other, literally. Many wore rainbow t-shirts, buttons, stickers and sneakers to school, signaling solidarity and pride, even in mourning. Tens of thousands of them connected with GLSEN from Sunday on, as we provided crisis support resources for them and for their students.
When GLSEN began its work in 1990, people were only beginning to be out in K-12 settings – whether as LGBTQ themselves or as allies to LGBTQ people. Over the years, we've learned what a huge difference visible support at school makes in the lives of LGBTQ students, and built our programs and campaigns accordingly. Today, I am proud to report, almost every LGBTQ student in the US can identify at least one supportive educator. We are making progress!
In the wake of Orlando, and as we approach the anniversary of the Stonewall rebellion, GLSEN is asking that you continue to "Show Your Pride" to focus our collective strength and resolve, and to be a light of solidarity and support. You may be LGBTQ; you may be an ally; you may connect most deeply with other aspects of this tragedy. Right now, we can demonstrate powerfully that we are all in this together by taking action and showing pride in ourselves and each other. 
Before Orlando, we were already facing a crucial moment for LGBTQ issues in K-12 schools, fighting back against renewed anti-LGBTQ action by state legislatures and school authorities. That battle continues, though the ground may have shifted. Over the past week, education leaders in some communities have recognized their responsibility to address hate and bias, and have proposed new steps to support LGBTQ students and staff in their schools.  
Together, we can make clear to school leaders how urgent it is that they respond directly and unequivocally. And we can give them clear guidance on what schools must do to make their support for LGBTQ youth both visible and effective.  
TAKE ACTION >>> 
Jessica Toste, Co-Chair of GLSEN Austin, put it succinctly last week: "Ask yourself: As millions of LGBTQ young people step out into the world today, what kind of world do they see?" No matter our age, our profession, our religion, our race, our ethnicity, our abilities, the answer is in our hands. 
Thank you to each and every one of you for all that you do to make our world and our schools better places for everyone.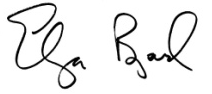 Executive Director, GLSEN