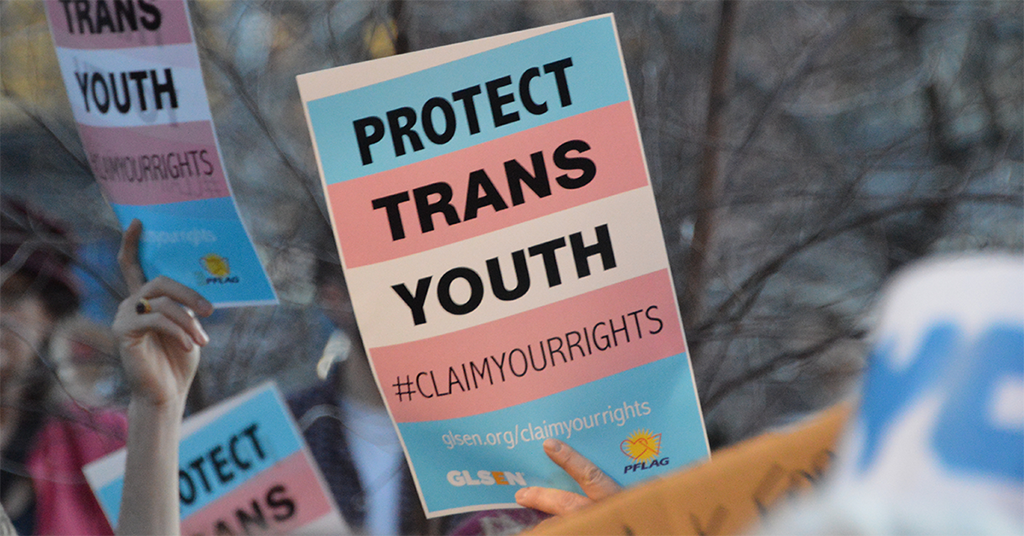 Many people are outraged by the current administration's actions to rescind the Title IX guidance, which protected transgender people. Across the country, GLSEN has organized and rallied to uplift trans youth voices and make the support they have in our country both visible and active. As you continue to organize, rally, and advocate for the rights of trans people, including trans youth, we urge you to include those who are most marginalized in this fight at the forefront.
In the first two months of 2017, we have lost 7 Black trans women due to violence: Jamie Lee Wounded Arrow, Chyna Gibson, Mesha Caldwell, Jojo Striker, Tiara Richmond, Jaquarius Holland, and Ciara McElveen.
In a recent interview, trans actress Laverne Cox referenced the removal of the Title IX guidance, saying, "The message that the Trump administration is sending is that trans people should not exists in public space." It is important that educators combat the messaging that prompts trans students to believe that they should not exist, and encourages others to think their violence, harassment, or erasure of trans people is justified and normalized.  
We are urging educators to stay aware and vocal of these incidents as there is a direct impact on trans youth when we stay silent.
Here are 9 ways to stay vocal and support trans youth:
1.    Register now for GLSEN's Day of Silence on Friday, April 21, 2017, to receive information to participate in the largest student-led action to combat anti-LGBTQ bullying and harassment in schools.
2.    Address current events in your classroom. We know that most of our students are aware of the news and media, and this seeps into our classroom. Proactively addressing and creating time for current events, whether during morning meeting, homeroom, or school-wide assemblies, provides a framework for the discussions your students are already having in between lessons, and allows adult perspective to clarify and support this dialogue.
3.    Make sure your colleagues, students, and school administration know that Title IX still protects transgender students' rights to a safe learning environment, free from bullying and harassment. Know your rights.     
4.    Use GLSEN's trans-supportive model laws and policies to have inclusive policies that explicitly protect and show support for trans students and educators.
5.     Implement these lesson plans on bullying, bias, and diversity to support the conversations you're having about current events and to help your students develop deeper understandings of empathy and respect.
6.    Show GLSEN's pronoun resource to your trans students and/or GSAs and ask what changes they'd like implemented for them to feel valued, visible, and affirmed.
7.    Sign up for GLSEN UP to receive information about how you can directly take part in policy and organizing actions that protect transgender and GNC students in your community and across the country.
8.    Put up a picture or symbol of trans student support. Remind trans students and educators that they still have rights and they are loved.
9.    Support or form a GSA at your school to actively support and uplift the voices of the LGBTQ community. Find resources here.
And of course, breathe and remember that you are not alone! Adults across the country are supporting each other through the Educator Forum. Join today to add your voice to the dialogue, and to lean on and be inspired by other educators as you continue this work.
Becca Mui is the Education Manager at GLSEN.